7 days in the North Ionian Islands
Ionian Islands. If there is a paradise, I finally found it…
Wonderful climate, turquoise waters, scenic and gorgeous harbors. Traditional architecture, cosmopolitan places, green mountains, hospitable people, unique traditional cuisine and sea for sailing, diving and other water sports. The duration of travel between islands is estimated approximately on an average speed of the boat.
CORFU: One of the most beautiful islands in Greece
The cosmopolitan gorgeous island, exuding a nobility, with a venerable Venetian element, historic buildings, palaces, fortresses, romantic Canadas with arched galleries, amazing beaches and long history from Homer's years.
The city of Corfu is characterized by its intense Venetian architecture element, but also by many English and French influences. It is a cosmopolitan city that exudes a sense of nobility, with its main attractions the old and new fortress, the Town Hall, the cannon, Mon Rope and the great square Spianada, the largest square in the Balkans. Also, Michael and George's Palace, one of the most beautiful palaces left behind by the British Empire, is also a major attraction. In Corfu Venetian mansions and buildings are painted with the traditional Corfu color of the ocher.
The islet of Blacherna
In front of Kanoni is probably the most famous attraction of Corfu, the island where the church of the Virgin of Blacherna is located, which is connected with the land through a narrow strip of land.
Ponticonisi – tourist attraction of Corfu, which is a natural museum, on which is a small church, the Pantokratoras, of the 11th-12th century.
The Natural Cove in Corfu
Palaiokastritsa In the most famous tourist resort of Corfu, the green overflows to the six small bays The beach of Paleokastritsa is famous for its waters
The Wonderful Islands (Othoni, Ereikoussa)
Favorite destination by boat north of Corfu.
The list of the wonderful beaches of Corfu is not over
… Sidari and Canal d'amour, Palaiokastritsa, Rovinia, Agios Stefanos, Kassiopi, Kontokali, Agios Gordios …
Canal d'amour
St. Gordios

Rovinia
The picturesque village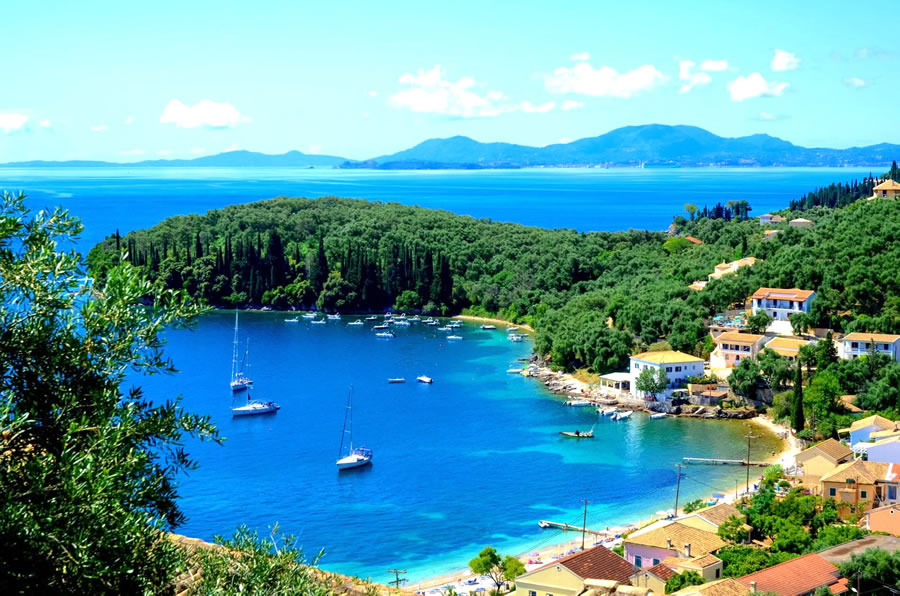 Corfu will amaze you…